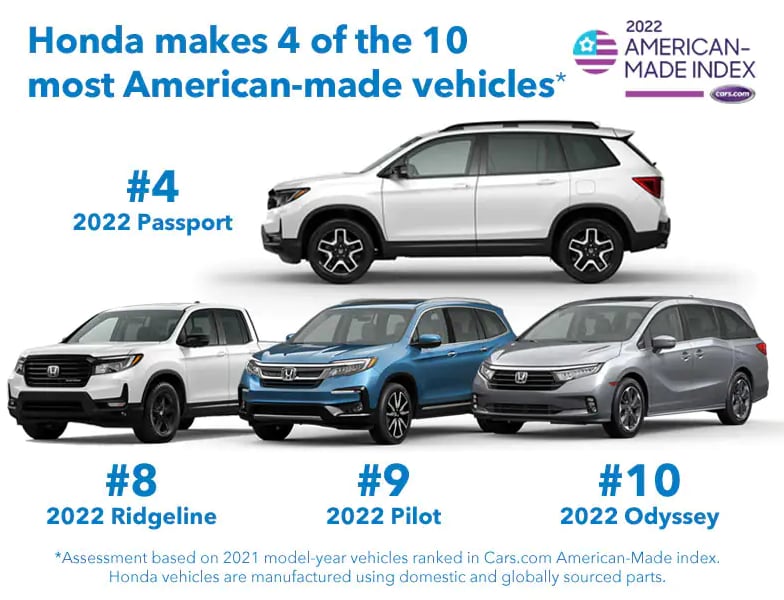 Alabama-built 2022 Honda Passport, Ridgeline, Pilot and Odyssey in top 10
More than two-thirds of Honda automobiles sold in the U.S. are made in America
Honda operates five auto plants in the U.S., in Ohio, Indiana and Alabama
Cars.com has just released its third "2022 American-made Index", which analyzed 370 current year new models for sale. They examined final assembly location, parts content and other factors to determine the overall impact on the American economy.

And Honda models took four out of the top 10 spots!

All assembled in Alabama, the 2022 Passport was #4, and the 2022 Ridgeline, Pilot and Odyssey were 8, 9, and 10 on the list.

All four of the Honda models in the top 10 —Passport, Ridgeline, Odyssey and Pilot — also were designed and developed by Honda engineers in the U.S. and are produced exclusively in Lincoln, Alabama.

Moreover, the engines that power these vehicles also are built at Honda's Alabama Auto Plant, with the transmissions produced nearby at Honda's transmission plant in Tallapoosa, Georgia.
2022 Cars.com American-Made Index Top 10

| Rank | Model | Assembly location for cars sold in the U.S. |
| --- | --- | --- |
| 1 | Tesla Model Y | Fremont, California or Austin, Texas |
| 2 | Tesla Model 3 | Fremont, California |
| 3 | Lincoln Corsair | Louisville, Kentucky |
| 4 | Honda Passport | Lincoln, Alabama |
| 5 | Tesla Model X | Fremont, Califor |
| 6 | Tesla Model S | Fremont, California |
| 7 | Jeep Cherokee | Belvidere Illinois |
| 8 | Honda Ridgeline | Lincoln, Alabama |
| 9 | Honda Odyssey | Lincoln, Alabama |
| 10 | Honda Pilot | Lincoln, Alabama |
You can easily see how much domestic content is in a new vehicle. By law, the window sticker on nearly every new car sold in the U.S. must show the percentage of U.S. and Canadian parts, by value.

Discover these award-winners and the rest of the very American-made Honda lineup at Conicelli Honda, selling Hondas in Conshohocken since the 1980s.

Click to view our full inventory of new Hondas

View the full Cars.com article: https://www.cars.com/american-made-index/