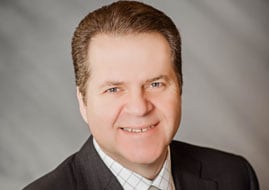 (New York, NY, October 23, 2020) – The nomination of Dominic Conicelli, dealer principal at Conicelli Toyota of Conshohocken in Conshohocken, Pennsylvania, for the 2021 TIME Dealer of the Year award was announced today by TIME.

Conicelli is one of a select group of 40 dealer nominees from across the country who will be honored at the 104th annual National Automobile Dealers Association (NADA) Show being held virtually February, 9-11, 2021. The announcement of this year's annual award was made by Viktoria Degtar, Global Chief Revenue Officer, TIME, and Doug Timmerman, president of Auto Finance for Ally Financial.

The TIME Dealer of the Year award is one of the automobile industry's most prestigious and highly coveted honors. Recipients are among the nation's most successful auto dealers who also demonstrate a long-standing commitment to community service. Conicelli, 55, was chosen to represent the Pennsylvania Automotive Association in the national competition – one of only 41 auto dealers nominated for the 52nd annual award from more than 16,000 nationwide.

"Having grown up in the car business while working for my father, it was important to me that I earned each job I was given," nominee Conicelli said. "I gained the respect of my co-workers by being in the trenches with them and working together to grow our business. Having the respect, friendship and loyalty of these amazing people has created an unbelievable atmosphere that allows us to excel in everything we do."

Conicelli is a 1987 graduate of Ursinus College in Collegeville, Pennsylvania, where he earned a B.S. in economics. His first introduction to the retail automotive business was at the used-car lot owned by his father, Dominic L. Conicelli, which his dad acquired before Conicelli was born.

"My automotive career probably started as many other second-generation car dealers. I would spend time around the lot with my dad, and the first real job I can remember was washing all of the cars on the lot with a hose and bucket when I was 10 or 11 years old."

Conicelli originally wanted to be an accountant but after working in used-car sales at Conicelli Toyota of Conshohocken during high school and college vacations, he decided to take a different path at the dealership. He was named used-car manager soon after graduating from college.

"I wasn't sure I was ready to take on that role as I only had a few months of sales experience. Later I realized that would be true with most of the opportunities I was given."

Once in the position, Conicelli and his young management team were able to build momentum for the dealership and he later became general manager of the company's new Mitsubishi franchise and then its Pontiac-GMC store, both in Norristown, Pennsylvania. "Running these smaller stores was my first experience dealing with the entire operations of a dealership. It was more than just car sales, as I was now gaining exposure to the service and parts end of the business."

That experience would prove invaluable when he took over as general manager of three stores in 1992 following the death of a colleague who held that position. "I was only in my mid-twenties and didn't know if I was up for the job. After much thought and motivation, I asked my father for the responsibility. From there, as a family and team, we grew and strived to make a mark on the Philadelphia market, and we haven't looked back since."

Today, the Conicelli Autoplex, which Conicelli owns with his two sisters, encompasses multiple Pennsylvania dealerships in Conshohocken and Springfield, representing brands Genesis, Honda, Hyundai, Nissan and Toyota. "All of the credit goes to my family and this great team of people who dedicated their careers to the success of our group."

Conicelli is a big supporter of his state and local dealer associations and has devoted his time to industry advocacy and charitable initiatives. He currently serves on the boards of the Pennsylvania Automotive Association Foundation, which supports and enhances the charitable activities of dealers, and the Auto Dealers CARing for Kids Foundation, the philanthropic arm of the Auto Dealers Association of Greater Philadelphia.

"As chair of the Philadelphia Auto Show in 2010 and 2011, we refined our fundraising structure for the gala's beneficiary, Children's Hospital of Philadelphia, and entered a new era of success. I also helped our newly developed Driving Away the Cold effort, which supplies new coats to children, secure a then-record 175 dealer participants. We have kept the giving going and this fall, we will distribute our 473,200th new coat."

Conicelli is also firmly committed to giving back to his community. To that end, he and his wife, Karen, created the Conicelli Family Three Little Angels Foundation. "Through the dealerships and Three Little Angels, we have supported a number of local organizations over the last decade. Our goal is to make an impact in our community by helping various organizations, especially those that provide for families and children who are struggling."

Some of the organizations he supports include: Habitat for Humanity; Disabled American Veterans; Mission Kids Child Advocacy Center (provides multidisciplinary care to children who have experienced abuse); Laurel House (local shelter that advocates for and empowers victims of domestic violence); The Eye Institute of Salus University's Looking Out for Kids program (gives free eye care, eyeglasses and hearing care to vulnerable children; Conshohocken Free Library (provided new computers, books and toys for a new child area); as well as many local schools and events.

"Having the capability of helping others in need, especially in the community where my parents were raised and grew up, means a lot to me. Being able to give back gives me a greater sense of purpose and with the events and charities we have supported, I know I am making a positive impact."

Conicelli was nominated for the TIME Dealer of the Year award by John Devlin, president of the Pennsylvania Automotive Association. He and his wife, Karen, have three children.