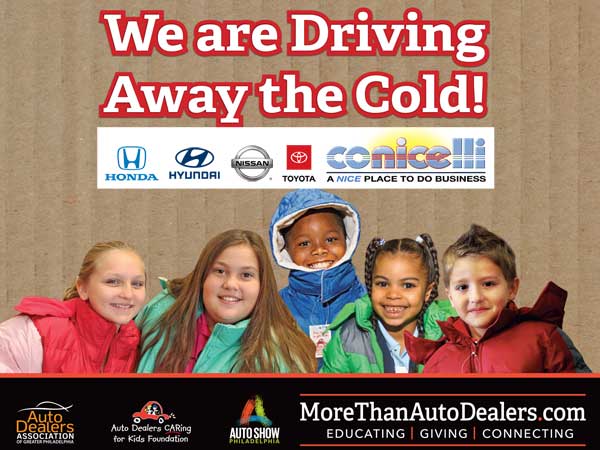 For the 11th year, the Conicelli dealerships are supporting the Driving Away the Cold program of the Auto Dealers Association of Greater Philadelphia.
This program has donated over 315,000 new winter coats since its start in 2008, and expects to be adding another 50,000 to the total with this year's campaign. These coats are given to children all across the Philadelphia area.
At Conicelli, we're doing our part by donating a new coat for every car we sell during the month of September. The coats donated by Conicelli are slated to be given to needy students in nearby schools, including:

325 coats to Frederick Douglass School in Chester
625 coats to Carson Valley Children's Aid in Flourtown
250 coats to Macedonia Baptist Church in Norristown
250 coats to Norristown School District in Norristown
100 coats to North Light Community Center in Manayunk
50 coats to Missionary Sisters of Charity in Norristown
The gift of a new coat warms the body and soul of a child in need. It can supercharge the recipient's self-esteem and helps him or her to arrive to school warm, ready to learn and to receive two hot meals. It reminds that child that he or she is important.
If you would like to spread the warmth to a local child in need, you can donate on your own without having to buy a car. Just click to make your own personal donation. 100% of your donation will go towards new winter coats.
Help us spread the warmth with your generous donation; no contribution is too small.